Since marketing is such a big part of an e-commerce website, having the right tools for the job is critical for success. Having the correct tools not only helps your work become much simpler, but it also makes you more efficient in doing the job. As such, you get better results and facing the challenges that come with digital marketing becomes easier – as the store continues to grow, so do the challenges that we face. From building consumer trust, mobile and Omni-channel marketing, creating and implementing a content marketing strategy just to indulge a few.
So, because of the great work that we are doing, we need some proper tools and software to make the job a bit simpler. These tools include;
SEMRush
SEMrush is one of the top tools in the digital marketing space. One of its biggest qualities is its unbeatable strength when it comes to opposition research. With this tool, you can analyze what your biggest competitors are doing and from that, create better online marketing campaigns right from the start. Many digital marketers believe that SEMRush is the leading competitive intelligence software which has all the tools you might need and a simple UI to top it all off. For those who are new to using the tool, it has a lot of tutorials and an easy to understand user guide. Their pricing is reasonable, and their support team is easily reachable at all times.
Read Also: Are Backlinks Still Important For SEO After Google Algorithm Updates
Rankwatch
Rankwatch is a cloud-based en-suite SEO tool with artificial intelligence at its backbone. Its core functionalities are SEO based giving a suite of management options for various tasks such as implementing a robust online strategy for your site, Advanced Analytics, Keyword Position Checking, Backlink Watch, Competitor Watch, Local Tracking and so much more.
Their simple yet elegant SEO Management Platform helps users have a bird's eye view of their digital marketing campaigns while providing real-time actionable data to work with.
Similarweb
SimilarWeb is an online tool used to give marketing and traffic insight for any website on the internet. The tool gives users an overview of a site's user engagement, ranking, and overall reach. The tool is simple to use since to get details about a particular site, all you have to do is enter a specific website URL or run a category search which will give you the top 50 websites according to the country or respective industry.
Read Also: Ultimate List of Magento SEO Extensions For eCommerce Store in 2017
Ahrefs
For a serious content marketer or SEO expert, Ahrefs is one of the most important tools you can have in your arsenal. This is a tool that mainly aids you to get a clear understanding of what your competitors are up to so that you can make better marketing decisions.
Ahrefs is an all-inclusive SEO and social media tool that aids you to understand the content better be it your own or the competition. Many marketers know that about 80% of your traffic originates from 20% of your content. With Ahrefs, you learn to create content that is more interactive and shareable so that you can have better search traffic.
Screaming Frog SEO Spider
This is one of the best Site Audit tools out there today. Before doing any optimizations on a website, it's prudent to have a bird's eye view of the whole site. To have a full unbiased view of the website, an audit tool is necessary. Screaming Frog SEO Spider is a tool that crawls through a website to have a full image of everything that's going on in there. The tool can track; website pages, broken links, titles and Meta descriptions, Outbound and internal links per page, keyword elements, and HTTP status codes. The tool works on a freemium business model offering limited capabilities for the free version and unlocking the other functionalities once you have upgraded. The tool is available for PC, Mac or Linux.
Moz
Moz is an SEO tool that gives its users both basic and advanced research tools to aid them in their journey to SEO greatness. Moz provides keyword research tools together with an SEO kyword generator to help in keyword research and management. What's more, the tool gives the user some detailed information on link quality and inbound links. This way, you can find out which links are dead and which ones are performing well. With Moz Pro, you can also perform competitive analysis and link building.
Read Also: 15+ Must-Have Free Mobile Apps for Marketers
Majestic SEO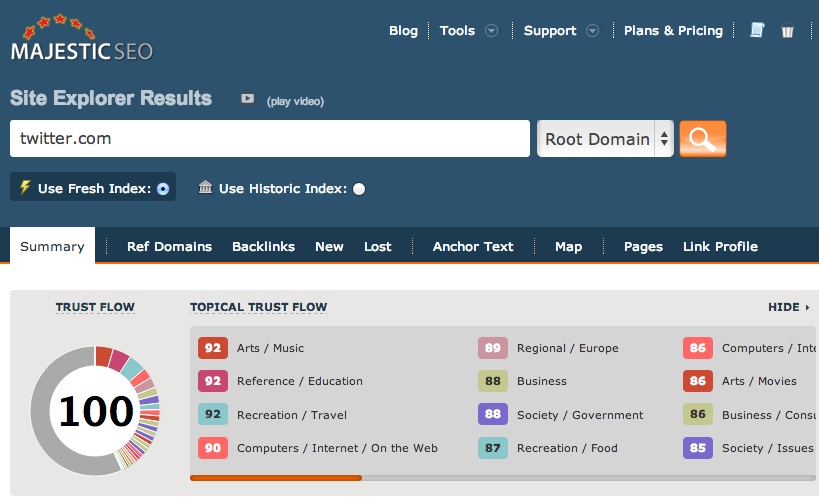 Majestic SEO is one of the best link analysis tool known to digital marketers. Like all the major search engines, Majestic SEO has its own database of the internet. It boasts of an index of 52 billion pages, 2.6 trillion mapping relationships and a whopping 350 unique URLs. The first stop is the site explorer which prompts the user for a URL and gives back a whole lot of information regarding the link provided. The user gets a site overview, referring domains, top backlinks, backlink history and top pages. For someone looking to perform some serious link building, Majestic SEO is the tool for you.
AWR Cloud
AWR Cloud is a tool used to track, manage and report keyword rankings on the big search engines such as Google and Bing. Apart from the tracking keyword rankings, the tool can also perform technical website audits, keyword research, and competition research. In short, this is an all-in-one SEO tool which gives a quick overview of crucial data from a website. AWR Cloud is a useful tool for many digital marketers since the information you get here can be used in various applications all of which promote the site.
Raven Tools
Raven Tools is a tool for analyzing your website and tells you what you can do to increase your SEO power. This website is so good that it instantly shows you where you're doing something wrong, having issues and missing opportunities. The SEO audit tool is important when it comes to identifying internal site issues that can prevent a good ranking on search engines. What's more, the tool arranges all the problems in order from the worst to the least harmful.
Google Analytics
Google Analytics is a tool that's used to quantify sales and conversions while giving you comprehensive insights into how visitors use your website. Apart from showing you how these users are using the site, you can also see how they got there and what you can do to keep them coming back. Google Analytics is a world-class platform that gives a webmaster all the data they might need from a website so that they can learn how to improve it.If analyzing this data is too much for you, taking a web analytics training program might do you a lot of good.
Read Also: 6 Contemporary Strategies Help To Boost Google Rank
Conclusion
Some of these tools are easy to use while others are a bit complicated. Taking a web analytics course can do you a lot of good so that you can fully understand what all the feedback and data means and how to leverage it.