Gone are the days when building massive and poor backlinks was the only key to win the top ranking among competitors. The era is no more when quantity backlinks were great.
Thanks to Google algorithm which rolled tremendously and re-ranked the websites for their quality work. After all, hard-work always pay-off.
There are a plethora of websites that are still confused about quality and quantity backlinks. Some are even paying a huge amount to put their backlinks on authoritative websites. While some are going blind with the relevancy and quality of the website just to make plus one of their backlinks count.
If you are a techie and want to get high quality backlinks free, you landed at the right place. Without wasting a lot of time, let's proceed.
Free and Quality Backlinks! Yes, That's Possible. Check out here 15 ways to get high quality backlinks free.
Guest Posts
 Content is king! So, why not start talking about guest posts.
Writing for your own website is great, but you need to be diversified when building a link. Multiple internal links is definitely a bad idea. So, filter the relevant websites that accept blog posts from guest authors, get the content written following their guidelines and get it published with a backlink.
[box type="shadow" align="" class="" width=""] Read Also: Are Backlinks Still Important For SEO After Google Algorithm Updates [/box]
Blog Commenting
Blog commenting is a great way to get your link on trending posts. But before you start with it, make a pinpoint of not making negative comments or making the post on an irrelevant website. Also, read the blog thoroughly before giving the opinion. The baseline is, add value to the post so that it can do vice-versa.
Data-Rich Content Posting
No reputed website will give you a backlink till you put some efforts. Introducing infographics, research stats, image, testimonials, videos, and experiences will definitely work for you if you are looking for a backlink on an authoritative website.
Infographic Data
 A research says, infographics drive more audience than text data. Creating infographics with rich data and good design will definitely bring more audience and opportunity to embed within a popular post with a backlink. Always, prefer creating an infographic on trending and latest researches.
The good news is, some bloggers use infographics within their content which ultimately, gives a backlink on their website.
[box type="shadow" align="" class="" width=""] Read Also: Dofollow and Nofollow Links in SEO [/box]
Public Relations
If you say, Press Release, you guessed it right. Create a buzz among audience regularly by publishing the contents of press release websites, news websites or social media channels with updates, information or launch. But always consider using a Business name for backlink instead of a phrase.
Broken Links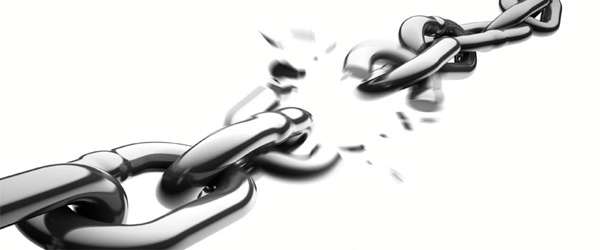 Visit blogging websites in relevance to your product or service and check the broken links using an online tool or chrome extension. Once, you get the page with valuable content with a broken link, approach the editor to introduce the backlink for your website. If your website holds a good reputation, you will definitely get a link.
Forum Posting
This is one of the very interesting and easiest ways. Just participate in discussions under relevant topics by registering to the forums. Initially, the profile will have a no-follow link which will be upgraded to dofollow link, once the participant becomes an active and regular commentator. It is also recommended to make quality and relevant posts in order to enhance the authority of the profile.
[box type="shadow" align="" class="" width=""] Read Also: 6 Marketing Practices that Could Double Your eCommerce Sales [/box]
Testimonials
Visit websites and ask, if you can give a testimonial for their website. Right after the testimonial, you can get a bio with a backlink to the website. Nothing could be better if you write for the website that owns high authority, good ranking, and immense traffic.
Create Informative Piece
There are zillions of people across the globe who prefer online tutorials, guides, ebooks, white papers and other informative contents rather than buying physical books. Create such materials embedding a backlink and upload either on your own website or others. So, whenever your piece of content will get circulate, you will get the traffic.
[box type="shadow" align="" class="" width=""] Read Also: 6 Design Elements that Convert Visitors to Lead [/box]
Discussion Websites
Websites like Quora, Reddit, and many more welcome their members to become part of various discussions, groups, and communities. They allow putting a backlink within the profile. What's next? The more authoritative the profile becomes, the more visibility it gets.
Internal Backlinks
 Create blog posts in relevance to other blog posts. Introduce backlinks within the content, but mind the context. The backlink should always have the appealing text and bold so that it gains effective traffic and visibility. Down the line, never think of overdoing with internal backlinking.
Web 2.0
Blogspot, WordPress, Tumblr, Joomla, Weebly and there are other excellent websites that accept contents with excellent backlinking opportunity. You can put a link to the blog, author bio or profile. But, again consider relevancy and number of backlinks within a single post. 
Enhance 'Enhanced' Posts
Make a small research over popular or trending posts. Re-write them by enhancing the composition either by elaborating more, introducing images, videos or infographics, giving a descriptive title and using visual examples. Mention backlink(s) and either post it to your own blog or other renowned websites.
Social Media
What else could be a better place to put your backlink. If you own a blog or website, create a page mentioning the backlink. To keep the page engaging, update it regularly and avoid spam posts else you will be left with a block account.
[box type="shadow" align="" class="" width=""] Read Also: 11 Ways To Reduce Bounce Rate and Increase Conversions [/box]
Partner Logos
This goes like exchanging the backlinks. If you are working with a partner, put its Logo with a backlink on your website and ask for vice-versa. This will not only give great impact to the website but also enhanced visibility on search engines.
When To Backlink? The Time is Now!
Backlink building is not an investment, pain and impossible either. All you need to have is a good website, rich content and effective marketing strategy. However, you can also connect with Digital Marketing Company in India and across, if you are a newbie to the online marketing world.